Kwame Yogot weeps while live on Tv Africa with host, Roselyn Felli as he talked about his journey in music and finally being recognised by Ghanaians.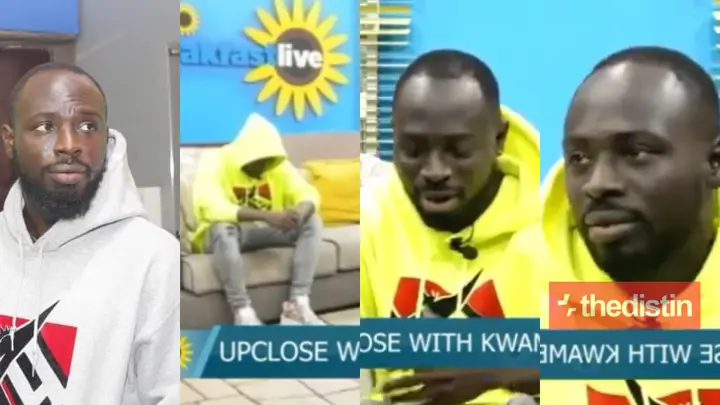 When he was asked if he sees himself as a popular artist now, Kwame Yogot said he doesn't see himself in the position he wants to get to but as compared to ten years ago, he currently been known by many people.
Kwame Yogot full of emotions attributed his current success with a hit song to God's grace, adding that sometimes he doesn't even understand why all of a sudden he has a hit song now.
The "Bitter Sweet" hitmaker said his journey for the last 10 years has been very rough and that it only takes a strong person to still stand firm even though his parents supported his choice to do music after completing Senior High School.
Kwame Yogot revealed went to Accra to make end meets with his musical talent but he did not succeed until during Covid-19 he signed a label and released a song with Yaa Pono.
On how he met Lynx Entertainment's Kuami Eugene for his current trending song, Kwame Yogot said his label asked him to choose any other artist and he opted for Kuami Eugene.
Kwame Yogot disclosed that Kuami Eugene approached him with love and even said he enjoyed listening to his songs when he was in still.
Kwame Yogot and Kuami Eugene have made a magic tune together which has been well received by Ghanaian titled "Biibi Besi".
Watch the video below;
Source : Opera News